Work smarter with the latest Tourwriter enhancements
Edit product descriptions directly within your itinerary preview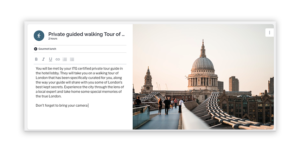 Customising your Tourwriter itineraries just got a whole lot more flexible. This latest update allows you and your team to directly update product and supplier descriptions in your itineraries. Perfect for those of you that would like to include a personalised note to your client, add a helpful link or simply edit your descriptions on a per itinerary basis.
Any edits you make will carry through to your final itinerary. You can also rest assured that your edits won't be overridden if you or a member of your team updates the original description in the supplier database.
Supplier loading just got even faster
The supplier set up process just got a whole lot faster with the introduction of pre- populated standard options for all new suppliers created (existing suppliers will not be affected).
Need different options? No problem, simply delete or rename the pre-populated options to the ones you want.
The itinerary builder now shows days of the week

Is the 13th a Saturday and should I really be booking a skydive on that day? Now it's easy to tell, because we have added the days of the week to the itinerary builder.
New product types for you to choose from

Due to popular demand, we have introduced 3 new product types; Coach, Bicycle and Tour. Coach and Bicycle are transport types, which behave similarly to other transport types such as rental cars.
Tour is an activity type, which behaves just like activity types; the only difference is that a tour can be a multi-day activity, whereas an activity can only be set for a specific day.
Making date changes easier to manage
In the travel design business, dates inevitably change…with this latest update you can now manage these changes much more easily in Tourwriter. Simply update the date range of your itinerary and receive the option to move all items to your new date range. At this time you will also have the option to refresh all of the associated supplier rates.