Tourwriter Studio
Tourwriter Studio is your very own place to explore, learn, and practice using everything that Tourwriter has to offer. Even if you are signed up with the Tourwriter One plan, Studio lets you test-drive the Tourwriter Plus functionality.
Tourwriter Studio is created on signing up for a Tourwriter free trial. If you choose to upgrade to either One or Plus, Tourwriter Studio stays with you. 
Tourwriter Studio is fenced off from your primary Tourwriter organisation. Thus, you can explore Tourwriter and practice workflows without worrying about impacting itineraries, suppliers and contacts in your primary Tourwriter account. It is the perfect place to practice using Tourwriter or training new staff to use Tourwriter.
Switching to Tourwriter Studio
When logging in to your Tourwriter One or Tourwriter Plus plan, a context switcher on your screen lets you choose between accessing Tourwriter Studio or your organisation.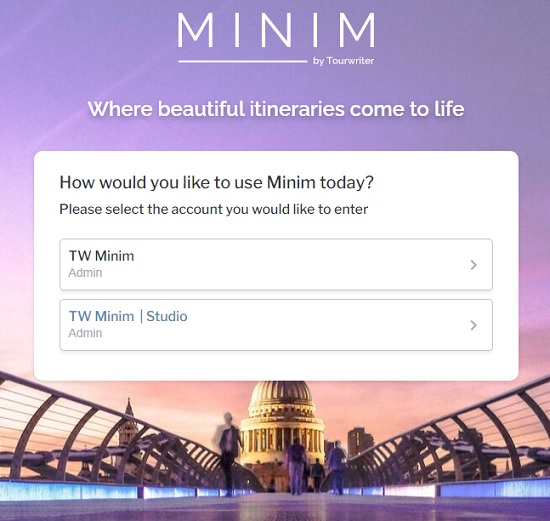 When you are in your organisation, you could still switch to Tourwriter Studio without logging off. Just head to your Profile to select Studio (Admin), as shown in the screenshot below.

Inviting your colleagues to Tourwriter Studio
Tourwriter Studio is automatically available when you sign up to Tourwriter Free trial. You need to add other users to Tourwriter Studio, just like adding them to your organisation account. As a Tourwriter Plus user, if you can't see Tourwriter Studio, we suggest you reach out to your organisation admin, so they can invite you to join Tourwriter Studio. Tourwriter Studio is a great area to add new staff members and let them self-train before you let them work on real cases. 
Key Points
There is a warning message when creating suppliers or itineraries. 

This warning message reminds you that changes made in Tourwriter Studio will not be available in your organisation. This is crucial particularly when you have been practicing in Tourwriter Studio during your Tourwriter Free Trial. 
The studio comes with pre-existing suppliers and itineraries.

PDFs exported from Tourwriter Studio are watermarked as below:
Training Tours launcher:  There are a bunch of guided tours available in Tourwriter Studio. You can launch any of the guided tours from the green checklist in the left hand corner of the screen.